If you are having hot water problems,
we are your problem solver!
We'll make you "plumb" happy!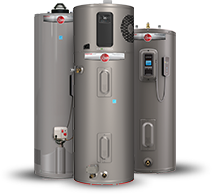 High-Quality Storage Tank Water Heaters
Contact Warda Plumbing Inc. and order your Rheem water heater today. Rheem carries the best products in the market with the best warranties. The gas models work well as a hot water solution for homes with busy families, luxury bathrooms, and vacation homes.
If you want hot water solution for a single faucet or shower, explore Rheem's electric tankless products. With 40 years of experience, our master plumber knows what to recommend for proper installation and care.
Expect high-quality and personal services from Warda Plumbing Inc.
Contact us today to learn more about a storage tank water heater.
Hours
By Appointment Only
Call to schedule your appointment today!

License Number: RMPL19116
Texas State Board of Plumbing Examiners
Mailing address: P.O. Box 4200
Austin, Texas 78765-4200
Phone Number: (800) 845-6584